We've pulled together seven favorite values exercises that you can use with your clients. These are based on work with hundreds of clients and repeated use in workshops and other training events. Most of these exercises originated from others and what we have tried to do is take some of our favorite ACT values exercises and write some scripts for how they might be used in therapy. It is our sincere intention to give credit to the original sources here but if there is something in this handout that we have inadvertently not given proper credit to, please let us know so we can correct that error or omission.
Download Values Scripts and Exercises Here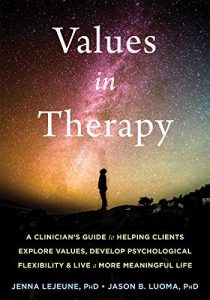 Also, if you're interested in the topic of values, we've recently written a book about doing values work in therapy, called Values In Therapy: A Clinician's Guide to Helping Clients Explore Values, Increase Psychological Flexibility, and Live a More Meaningful Life. Check it out if it sounds interesting.