There has been an explosion of research and resources on Acceptance and Commitment Therapy in recent years, and for those therapists that are new to this clinical model, the sheer amount of what's available can be overwhelming.
The second edition of Learning ACT was created to pull together all the developments that have occurred over the last decade since the first edition.
In addition to the book, you can also download a free copy of the Guide to Learning ACT, which is a companion to the book that provides a regularly updated list of resources to help you along your journey of learning ACT.
We created the Guide to Learning ACT to help sort through all the books, podcasts, videos, online learning courses, exercises, and other resources that will help you learn & master ACT.  This guide is meant to give you additional ideas on how to get started and how to advance your skill and knowledge of the therapy over time. It'll connect you with resources, with ideas on how to practice and learn, and with strategies for skill development.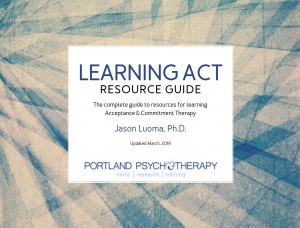 We update this guide regularly to make sure it has an updated list of the best resources in print and on the web.
The free guide includes…
A learning action plan worksheet

A comprehensive list of ACT books categorized by population & setting

A core competency self-rating form
The guide is best read as a pdf document as it includes lots of clickable links to get you to other resources.
Download the Free Guide to Learning ACT
---
We update the guide each year with the most up-to-date materials and resources out there for learning ACT. If you'd like to receive next year's guide when it comes out, sign up here (we won't use your email for any other purpose):
Only 1 Email a Year